Shannonwatch Endorses Peace Platform Presented at Mansion House Conference
Posted on:

18 February 2018

By:

shannonwatch
Body:
Shannonwatch endorse the following statement agreed at the end of a conference on Permanent Structured Cooperation (PESCO) held in the Mansion House, Dublin on February 17th. PESCO is the structural integration of armed forces of the European Union, which 25 of the 28 EU members, including Ireland, have signed up to.
The conference was organised by the People's Movement and PANA.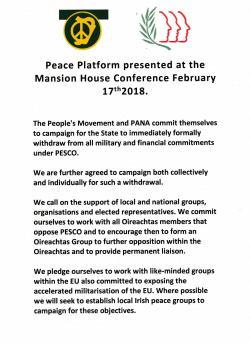 The People's Movement and PANA commit themselves to campaign for the State to immediately formally withdraw from all military and financial commitments under PESCO.
We are further agreed to campaign both collectively and individually for such a withdrawal.
We call on the support of local and national groups, organisations and elected representatives. We commit ourselves to work with all Oireachtas members that oppose PESCO and to encourage them to form an Oireachtas Group to further opposition within the Oireachtas and to provide permanent liaison.
We pledge ourselves to work with like-minded groups within the EU also committed to opposing the accelerated militarisation of the EU. Where possible we will seek to establish local peace groups to campaign for these objectives.
Speakers at the conference included Irish MEPs Lynn Boylan (Sinn Fein) and Luke Ming Flanagan; Danish MEP Lave K. Brock (Peoples Movement of Denmark); TDs Gino Kelly (People Before Profit), Eamon Ryan (Green Party), Thomas Pringle and Seamus Healy; Senators Alice Mary Higgins and Frances Black; and academic Karen Devine (DCU). The conference was also addressed by the Lord Mayor of Dublin, Mícheál Mac Donncha.
The intention behind PESCO is the formation of an EU army. In a speech made in June 2017, Jean-Claude Juncker referred to it as the "sleeping beauty of the Lisbon Treaty", and as speakers at the conference outlined, it commits signed-up states like Ireland to a scaling up of investment in militarisation. Private sector interests drive an ever-expanding discourse of security and defence which is accompanied by an erosion of the sovereignty of small states like Ireland. The impact of our increasing financial commitments to the "single set of forces" set out in PESCO will mean less spending in health, education and other sectors, and less money to meet the basic needs of people living in Ireland.
As one speaker said at the conference, PESCO is a war alliance and should be called so. Shannoinwatch will join with others around the country to oppose Ireland's participation and to demand an opt-out like Denmark has. This would be in line with the preference of the majority of Irish people that the country adopt a neutral stance.