About Shannonwatch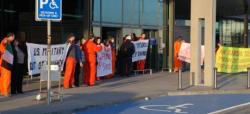 Shannonwatch is a group of peace and human rights activists based in the mid-West of Ireland. In the tradition of the Irish anti-war protest that began almost a decade ago, they continue to hold monthly protest vigils at Shannon on the second Sunday of every month. They also do continuous monitoring of all military flights and rendition-linked flights in and out of Shannon and through Irish airspace.
Shannonwatch's objectives are to end U.S. military use of Shannon Airport, to stop rendition flights through the airport, and to obtain accountability for both from the relevant Irish authorities and political leaders. As a member of PANA it actively supports its campaign against the integration of Ireland into the U.S. and other military structures, and in particular the use of Shannon Airport by the U.S. military.
Click here to contact us if you have any suggestions, information or questions.
---
Contact details
Postal address: P.O. Box 476, Limerick Delivery Services Unit, Dock Road, Limerick, IRELAND
Email: shannonwatch@gmail.com
Telephone: +353 87 8225087