First Six Days of May at US Military Base Shannon
Posted on:

9 May 2021

By:

shannonwatch
Body: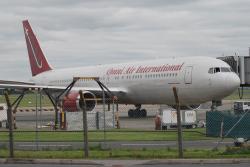 The US military base at Shannon in "neutral" Ireland has been quite busy at the start of May. In the first six days of the month there were nine troop flights, all identifiable from their US Transportation Command "Camber" (CMB) call sign, at least three US Air Force landings, and stopovers by the Canadian Air Force. All in six days. 
That's six days at a time when the Irish government is still advising against all non-essential international travel. Travel restrictions are in place to protect public health and to mitigate the risk of new variants of COVID-19 entering the country, they say. The Department of Justice has temporarily ceased accepting new visa/pre-clearance applications globally (with limited exemptions).  And yet the US military is allowed to travel through Shannon every day.
Troop Carriers
The troop carrier flights that landed at Shannon in the first five days of May were:
CMB342: May 1st, and again on May 2nd
CMB563: May 2nd
CMB341: May 2nd
CMB585: May 2nd, and again on May 3rd
CMB505: May 3rd
CMB516: May 3rd
CMB531: May 4th/5th (landed at 11.30pm, took off at 01:15am)
These flights were all operated by Omni Air International. This is just one of the airlines that have ongoing contracts to provide aircraft to the U.S. Department of Defense's Air Mobility Command whenever it is needed.
While we may question the decision by a private airline to profit from ferrying troops and their weapons to and from war, it's even more reprehensible that the Irish government makes one of the State's airports available for the same purpose.
A look at one of the flights, CMB563 shows that between Friday April 30th and Saturday May 8th it was in Sudan, Sofia (Bulgaria), Al Udeid Air Base in Qatar, Kuwait, Biggs Army Airfield (formerly Biggs Air Force Base) in Texas, Robert Gray Army Airfield also in Texas. And Shannon.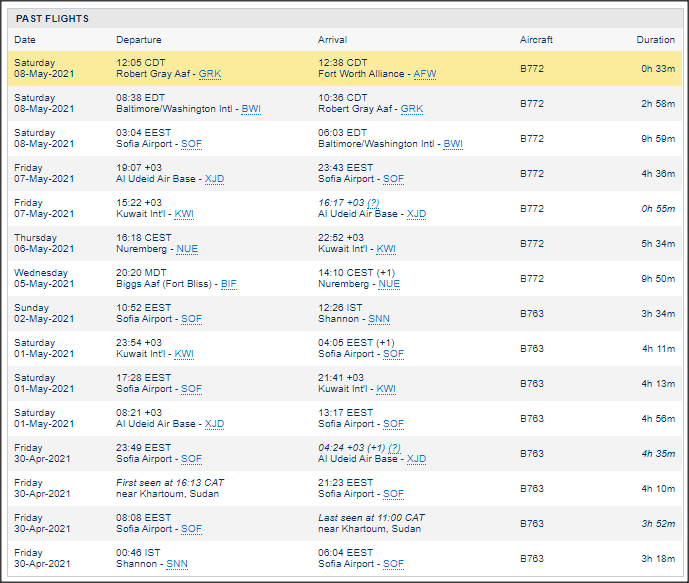 The plane that landed at Shannon using the CMB563 call sign was an Omni Air Boeing Boeing 767, N486AX. The reason the flight out of Shannon, which we know from our monitoring was at 14:52 local time on May 2nd, does not show up on this flight tracker report is that it switched call signs to OAE563. This is normal practice for the Omni Air troop carriers at Shannon.
More recently the CMB563 call sign was used by a different Omni Air plane, a Boeing 777 with registration N846AX. We tracked this flying over Ireland on May 6th, flying from Biggs Army Airfield on its way to Kuwait (via Germany).
US Air Force Planes
On May 4th a Boeing C-40B, registration 01-0015, operated by the US Air Force landed at Shannon at approximately 21:15. It took off again at midnight. 
The same plane landed again on May 6th at 16:02 and took off one hour and 50 minutes later at 17:54. On both occasions it was using the call sign SAM207.
On May 6th a US Air Force Boeing C-32A, registration 98-0002 landed at 19:53 and took off again at 21:50. It had call sign SAM277.
SAM277 may have had US Secretary of State Anthony Blinken on board, travelling from Kiev in Ukraine back to the US. This goes to show that in addition to supporting Middle East wars we are also supporting NATO targeting and threatening of Russia.
Given the duration of the stopovers, we assume these were refuelling stops. 
Royal Canadian Air Force
The Air Force of Canada, another NATO member, are also using Shannon Airport as a refuelling stop. On May 5th, and again on May 6th, one of their planes, a Bombadier Challenger with call sign CFC3065 landed while comuting between Canada and Oslo in Norway.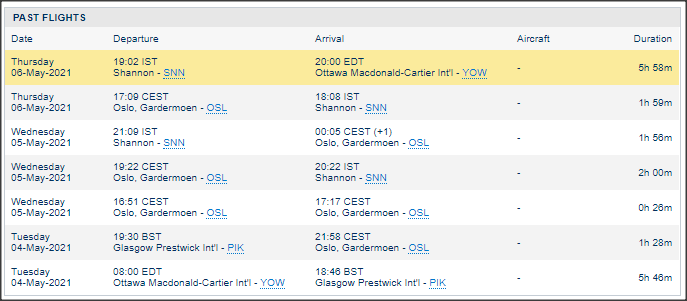 All in all it's been quite a shameful week of complicity in war and aggression at Shannon, overseen by Micheal Martin, Simon Coveney (Minister for Foreign Affairs, and Eamon Ryan, who, as Minister for Transport signs off on the permits for the troop carriers.  In two weeks time Ministers Coveney and Ryan will take part in an Irish initiative to lead an international effort "to move beyond ambition" among the world's largest carbon polluters and to "enact meaningful and binding commitments". They will do so while actively aiding and abetting one of the largest polluters in history, the US military, which consumes more liquid fuels and emits more climate-changing gases than most medium-sized countries.
These minister's actions make it hard to believe anything they say.
---
We'd show you some of the excellent photographs of these planes taken by plane spotters, but when we do, they contact us asking us not to use their images. These requests are often accompanied by uncomplimentary comments about what we do (which is exposing complicity in war). And since we've been observing Covid-19 travel and social distancing guidelines, we've not been hanging around the airport taking photographs.  But we will be back - starting with a peace vigil on June 13th at 2pm.