Military Contracted Plane Flew Between Three Military Bases in 32 Hours, Landing at Shannon Airport Twice
Posted on:

11 May 2021

By:

shannonwatch
Body: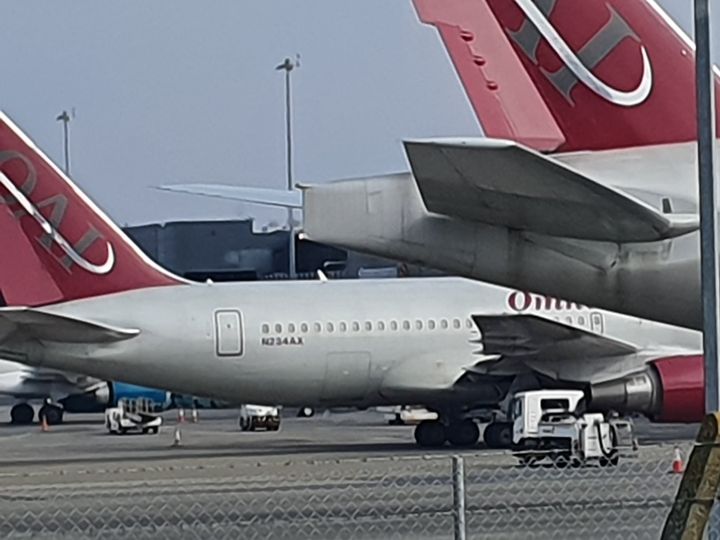 Photo taken at Shannon in 2020
Omni Air plane number N234AX, flight number CMB501 on contract to the US military, travelled a very unusual flight sequence on Sunday May 9th. It took off from Hill Air base which is a major US Air Force base in Ogden, Utah and flew directly to Shannon Airport. It then went on to Charles de Gaul CDG, Paris, then to Mont-de-Marsan Airbase, also in France.
Mont-de-Marsan is a secretive test facility for French cutting edge aircraft and related weapons systems. Wikipedia describes it as home to two squadrons of Dassault Rafale, the most advanced French fighter aircraft. The base includes Centre d'Essais des Matériels Aéronautiques - CEMA (the French air force military experimentation and trials organisation), an air defense radar command reporting centre, and an air defence control training site.
From there, N234AX headed north and then took an unusual turn rather than land at Charles de Gaulle, heading as if towards Ramstein. It made another turn heading south east again.
It ended up in Sofia, Bulgaria just after midnight on Sunday night. Three and a half hours later it left for Sheik Isa Air base in Bahrain. It hosts the Royal Bahraini Air Force Fighter Wing and the two squadrons that comprise it. In March 2009, the US Air Force established a camp there to support aerial port operations. The unit was designated a detachment of the 379th Air Expeditionary Wing of Al Udeid Air Base, Qatar. This detachment's purpose was to accelerate the delivery of mine-resistant, ambush-protected all-terrain vehicles to U.S. forces in Afghanistan (from Military Wiki)
N234AX/CMB501ack at Shannon, via Sofia, on Wed evening.

How can the Irish government tell us that Shannon is not involved in US military operations or exercises? A plane flew from a major air force base in the US, to a French military base, then on to an air base shared by the Bahranis and the US, and back again in the space of 32 hours, landing at Shannon twice.
Is our government blind? Or lying?