Military Supply Company General Dynamics Using Shannon Airport
Posted on:

31 October 2022

By:

shannonwatch
Body:
An executive jet owned by large weapons supplier General Dynamics Corp landed at Shannon Airport today at about 14.32. It took off again at about 15.44pm heading towards the USA.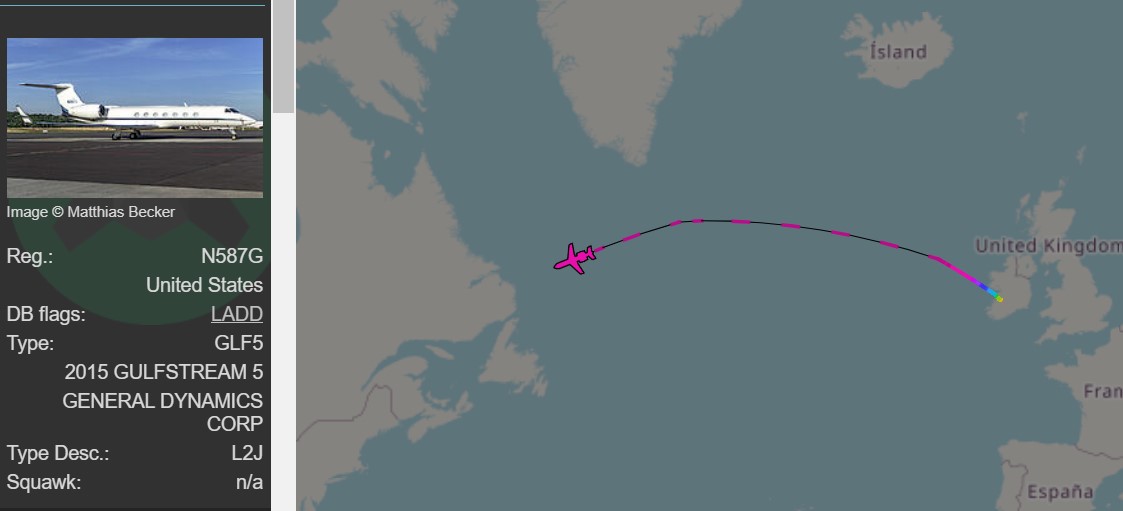 The plane, registration N587G is a Gulfstream 5. Its owner, General Dynamics, describes itself as a global aerospace and defense company. According to its website, it's business ranges from Gulfstream business jets and combat vehicles to nuclear-powered submarines and communications systems. it's business is "providing advanced, technology-led defense, aerospace and security solutions that empower the U.S. military and its allies".
N587G was coming from Kuwait with a stopover also in Cairo, quite possibly clinching some lucrative arms deals with Middle Eastern dictators, as it is owned by the 5th largest arms producer in the world . General Dynamics has ten subsidiary companies with operations in 45 countries. The company's products include F16 fighter jets, Virginia- and Columbia-class nuclear-powered submarines, Arleigh Burke-class guided-missile destroyers, M1 Abrams tanks and Stryker armored fighting vehicles. In 2020, General Dynamics had worldwide sales of $37.9 billion and a workforce of more than 100,000 full-time employees.
The wars in the Middle East and Ukraine have been very beneficial to this and other arms producing companies.