Peace Vigil at Shannon Airport Feb 13th 2022
Posted on:

13 February 2022

By:

shannonwatch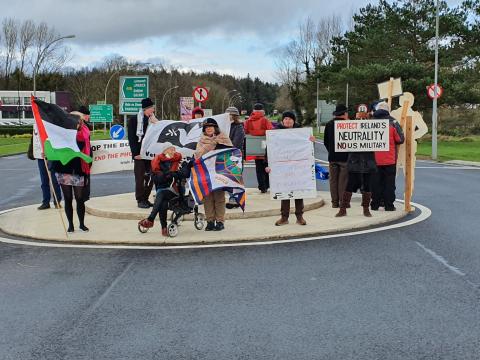 Body:
At today's peace vigil at Shannon airport we had 15 peace activists on a windy day. We are concerned that US and NATO are intent on provoking a war in Ukraine which could result in thousands of Ukrainian and other people being killed for no justifiable reason. The US leaders and military are promoting the propaganda the Russia will use a so-called false flag incident to justify Russia invading eastern Ukraine. However there is also the possibility that Ukrainian right wing paramilitary, now armed by Britain and the USA, will stage an attack on the breakaway provinces of Luhansk and Donetsk, and that the USA and UK will then falsely claim that this was a Russian false flag incident. NATO could well be hoping that this will provoke a Russian invasion of Luhansk and Donetsk. Hopefully Russia will not be so provoked.
After today's vigil two of the vigil participants, Margaretta D'Arcy and Orla Ni hEili, went up to the Shannon Airport terminal building and staged a small peaceful protest against the US military use of the airport by scattering rice along the floor of the arrivals area, handing out peace leaflets, and writing the words Food not Bombs as part of their protest.
Well done to these two good servants of peace!