Planning and Support for Trial of Peace Activists Kenneth Mayers and Tarak Kauff
Posted on:

19 April 2022

By:

shannonwatch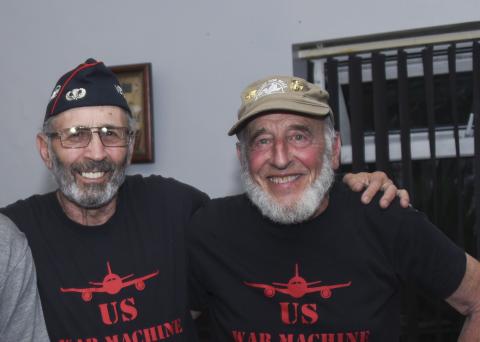 Body:
The trial of US peace activists Kenneth Mayers and Tarak Kauff who are members of Veterans For Peace is due to begin on Monday 25th April at the Circuit Criminal Court, Parkgate Street, Dublin 8. Both are former members of the US military and Kenneth is a Vietnam War veteran.
On St. Patrick's Day 2019 Kenneth and Tarak entered Shannon Airport to attempt to search and investigate any aircraft associated with the US military that were at the airport. When they entered the airport there were two US military aircraft at the airport and one civilian aircraft on contract to the US military. They were prevented from searching these aircraft by airport security personnel and Gardai and were arrested and detained at Shannon Garda Station overnight.
The following morning, they were taken to court and charged with criminal damage to the airport fence. Most unusually, instead of being released on bail, as has normally been the case with such peace actions, they were committed to Limerick prison where they were held for two weeks until the High Court released them on draconian bail conditions which included the seizure of their passports, and they were prevented from returning to their homes in the USA for over nine months. These unjustified bail conditions arguably amounted to punishment before trial. Their bail conditions were eventually modified, and they were allowed to return to the USA in late December 2019.
Kenneth and Tarak return to Ireland on Thursday 21st April. We are not sure yet if their trial will actually begin on Monday 25th April, as there are likely to be preliminary procedures including jury selection. Their trial was initially scheduled to take place at the District Court in Ennis Co Clare but was subsequently transferred to the Circuit Court in Dublin in order to ensure that the defendants got a fair trial by jury. Kenneth and Tarak are not the first peace activists to be brought before the courts in Ireland for such peaceful non-violent protests at Shannon Airport, and indeed are not the first non-Irish peace activists. Three of the Catholic Workers five, who carried out a peace action at Shannon in 2003 were non-Irish nationals. They were accused of causing over $2,000,000 of damage to a US Navy aircraft and were eventually found not guilty of causing criminal damage for the legal reasons of lawful excuse.
Since 2001 over 38 peace activists have been brought before the courts in Ireland on similar charges. All of them were protesting against the illegal use of Shannon Airport by the US military who have been, and still are, using it as a forward air base to conduct wars of aggression in the Middle East and Africa. The Irish Government is also in breach of international laws on neutrality by allowing US military forces to use Shannon Airport. The Gardai at Shannon have consistently failed to properly investigate, or bring to justice, those who have been responsible for these breaches of international and Irish laws at the airport, including complicity with torture. The relevant international bodies, including the United Nations and the International Criminal Court have also, so far, failed to bring any of the above-mentioned officials to justice. Instead of carrying out their duties to promote international peace many of these officials have been, by their actions or neglect, promoting wars of aggression. In more recent times, the US military has been misusing Shannon Airport to fuel the dreadful conflict in Ukraine by sending armed US soldiers to northern and eastern Europe and armaments and weapons to Ukraine.
We are asking that you show your support and solidarity for Kenneth Mayers and Tarak Kauff.
A GoFundMe fund has been launched in the USA to which you can also contribute. This fund has been recently reactivated. Most of the funds in it have already been spent since 2019 on legal, accommodation and travel expenses. The following is the link to this GoFundMe page: https://www.gofundme.com/f/u7p6wj-support-vets-fighting-us-war-machine-in-ireland
We will post regular updates on the trial here and on Facebook and other social media.
Peace activism against wars of aggression, including Russian aggression in Ukraine, was never more important.