Remembering the Children Murdered by Israel
Posted on:

15 August 2022

By:

shannonwatch
Body:
Today at our peace vigil at Shannon Airport we read out the names of the 17 Palestinian children murdered by apartheid Israel in its last brutal attack on Gaza.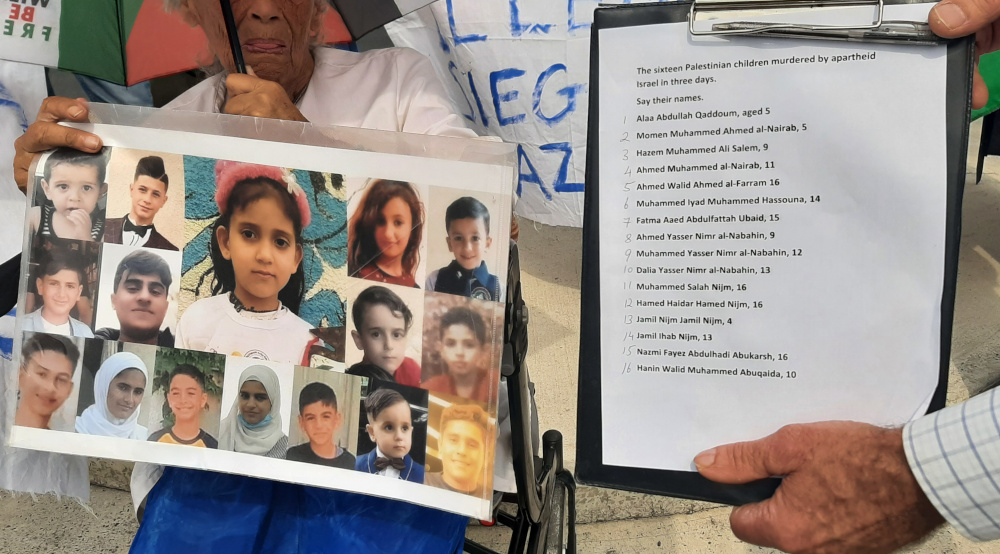 They were:
Alaa Abdullah Qaddoum, aged 5
Momen Muhammed ِAhmed al-Nairab, 5
Hazem Muhammed Ali Salem, 9
Ahmed Muhammed al-Nairab, 11
Ahmed Walid Ahmed al-Farram 16
Muhammed Iyad Muhammed Hassouna, 14
Fatma Aaed Abdulfattah Ubaid, 15
Ahmed Yasser Nimr al-Nabahin, 9
Muhammed Yasser Nimr al-Nabahin, 12
Dalia Yasser Nimr al-Nabahin, 13
Muhammed Salah Nijm, 16
Hamed Haidar Hamed Nijm, 16
Jamil Nijm Jamil Nijm, 4
Jamil Ihab Nijm, 13
Nazmi Fayez Abdulhadi Abukarsh, 16
Hanin Walid Muhammed Abuqaida, 10
Another child, Layan Al-Shaer, aged 10, died alone after sustaining head injuries during Israel's latest three day assault on Gaza. She was transferred to Al-Makassed Hospital in East Jerusalem on Tuesday but family could not be with her because Israel would not permit them to travel to be with her.
This cruelty by the Israeli state is difficult to comprehend.
According to the US Congrassional Research Service, the US and Israeli governments signed their third 10-year Memorandum of Understanding on military aid in 2016, covering 2019 to 2028. Under the terms of the MOU, the US pledged to provide—subject to congressional appropriation—$38 billion in military aid to Israel, consisting of $33 billion in Foreign Military Financing grants plus $5 billion in missile defense appropriations.
Through its supply of military assioatance and its ongoing support for the apartheid Israeli state, the US is complicit in the deaths of the 17 children we remembered today. And through the ongoing use of Shannon Airport by the US military, Ireland too is complicit in war deaths in the Middle East.
MAy the young children murdered by Israel rest in peace.