Trial of Kenneth Mayers and Tarak Kauff - Court Report Day 1
Posted on:

25 April 2022

By:

shannonwatch
Body: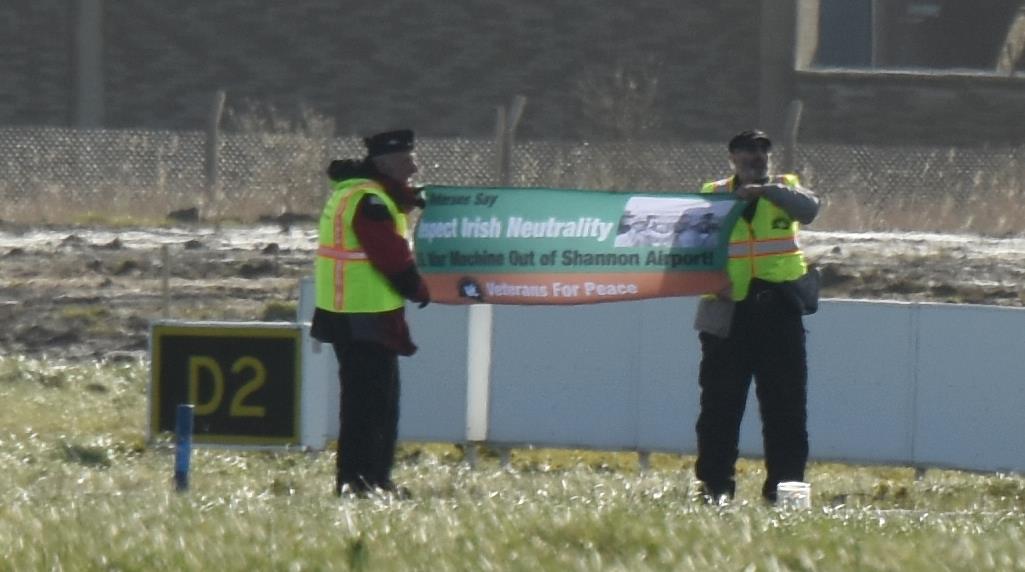 The trial of US peace activists Kenneth Mayers and Tarak Kauff who are also members of Veterans For Peace began today (onday 25th April) at the Circuit Criminal Court, Parkgate Street, Dublin 8. Both are former members of the US military and Kenneth is a Vietnam War veteran. Kenneth and Tarak arrived back from the USA to attend their trial of Thursday 21st April. Here is a report from Day 1 of the case.
Background: Why are Kenneth Mayers and Tarak Kauff facing trial by Jury in Dublin?
On St. Patrick's Day 2019 over three years ago, Kenneth and Tarak entered Shannon airport to attempt to search and investigate any aircraft associated with the US military that were at the airport. When they entered the airport there were two US military aircraft at the airport and one civilian aircraft on contract to the US military.
The first military aircraft was a US Marine Corps Cessna Citation registration number 16-6715. It so happens that Kenneth Mayers is a retired Major from the US Marine Corps, who served in Vietnam during the Vietnam war. The second military aircraft was a US Air Force C40 registration number 02-0202. The third aircraft was a civilian aircraft on contract to the US military most likely transporting armed US soldiers to the Middle East. This aircraft is owned by the Omni Air international and its registration number is N351AX. It had arrived at Shannon from the USA for refuelling at about 8am on 17th March and took off again at about 12 noon heading East towards the Middle East.
Kenneth and Tarak were prevented from searching these aircraft by airport security personnel and Gardai and were arrested and detained at Shannon Garda Station overnight. The following morning, they were taken to court and charged with criminal damage to the airport fence. Most unusually, instead of being released on bail, as has normally been the case with such peace actions, they were committed to Limerick prison where they were held for two weeks until the High Court released them on draconian bail conditions which included the seizure of their passports, and they were prevented from returning to their homes in the USA for over eight months. These unjustified bail conditions arguably amounted to punishment before trial. Their bail conditions were eventually modified, and they were allowed to return to the USA in early December 2019.
Their trial was initially scheduled to take place at the District Court in Ennis Co Clare but was subsequently transferred to the Circuit Court in Dublin in order to ensure that the defendants got a fair trial by jury. Kenneth and Tarak are not the first peace activists to be brought before the courts in Ireland for such peaceful non-violent protests at Shannon airport, and indeed are not the first non-Irish peace activists. Three of the Catholic Workers Five, who carried out a similar peace action at Shannon in 2003, were non-Irish nationals. They were accused of causing over $2,000,000 of damage to a US Navy aircraft and were eventually found not guilty of causing criminal damage for the legal reasons of lawful excuse.
Since 2001 over 38 peace activists have been brought before the courts in Ireland on similar charges. All of them were protesting against the illegal use of Shannon airport by the US military who have been, and still are, using Shannon airport as a forward air base to conduct wars of aggression in the Middle East and Africa. The Irish Government is also in breach of international laws on neutrality by allowing US military forces to use Shannon airport. The Gardai at Shannon have consistently failed to properly investigate, or bring to justice, those who have been responsible for these breaches of international and Irish laws at Shannon airport, including complicity with torture. The relevant international bodies, including the United Nations and the International Criminal Court have also, so far, failed to bring any of the above-mentioned officials to justice. Instead of carrying out their duties to promote international peace, many of these officials have been, by their actions or neglect, promoting wars of aggression. In more recent times, the US military has been misusing Shannon airport to fuel the dreadful conflict in Ukraine by sending armed US soldiers to northern and eastern Europe and armaments and weapons to Ukraine.
Day 1 of the Case
Today's trial got off the ground more quickly and more efficiently that we expected. Judge Patricia Ryan was the presiding Judge, and prosecution was led by Barrister Tony McGillicuddy. After some preliminaries jury selection got underway around noon. There was an interesting delay when one potential jury member asked, as they are entitled to do, to take the oath "as Gaelige". The court registrar searched through the files and nowhere could be found the Gaelige version of the oath – eventually an old law book was found with the Gaelige version of the oath and the juror was duly sworn in.
Tarak Kauff was represented by solicitor David Thompson and barrister Carroll Doherty and Ken Mayers by solicitor Michael Finucane and barrister Michael Hourigan.
A summary of the charges against the defendants is that without lawful excuse they did :
Cause criminal damage to the perimeter fence at Shannon airport of approximately €590
Interfere with the operation, safety and management of an airport
Trespass at Shannon airport
(These are not the exact wording.)  
The charges were read out to the defendants Kenneth Mayers and Tarak Kauff and they were asked how they wished to plead, and both pleaded very clearly NOT GUILTY.
In the afternoon Judge Ryan laid down the basic rules of play and did so clearly and briefly pointing out the role of the jury in deciding on matters fact with regard to evidence, and making the final decision on guilt or innocence of the defendants, and doing so on the basis of "beyond reasonable doubt". Prosecution led with a lengthy opening statement and called the first prosecution witnesses.
The defence barristers intervened to say that they were agreeable to accept certain statements and evidence by the prosecution as being agreed by defence, including the fact that the defendants did enter Shannon airport on 17th March 2019. This level of agreement should help to speed up the trial.
Witness no. 1: Det. Garda Mark Walton from the Garda Mapping section, Harcourt St, Dublin who gave evidence on preparing maps of Shannon airport in relation to the incident that occurred on 19th March 2019. There was no cross-examination of this witness
Witness no. 2. Garda Dennis Herlihy based in Ennis co Clare, gave evidence on his investigation of the damage to the airport perimeter fence. Once again there was no cross-examination.
Witness no. 3. Airport Police officer McMahon gave evidence of having patrolled the airport perimeter fence in the early morning before the incident confirming that he noticed no damage prior to the incident.
Witness no. 4 was Airport Police inspector James Watson who was on duty at Shannon airport and whose statement was read into the record because he was not available to attend the court and this was agreed with the defence.
The court then adjourned at about 15.30 until tomorrow Tuesday 26th April.
So far so good. From tomorrow it should get more interesting, but today saw good progress.