Unusual US Military Movements at Shannon
Posted on:

7 April 2021

By:

admin
Body:

Sometimes we get information about US military planes landing at Shannon that look a little bit more than refuelling stops. Yesterday was one of those times.
On Monday night (5th) N207AX, an Omni Air Boeing 767 troop carrier arrived from Biggs Air Base in El Paso Texas, landing at Shannon at 23.53. It had been scheduled to leave El Paso on Sunday morning, but it left on Monday morning instead. 
Another unusual thing about it was that it did not go the normal route. It went up over Greenland and down the West Coast of Ireland. All the way from El Paso, Texas.
The flight stayed overnight at Shannon and took of on Tuesday afternoon at 14.06 heading to Lviv in Ukraine. It left with a US military call sign, CMB503.
At 20:56 it was back in Shannon from Lviv.

Now here's where it gets even more interesting. Coincidentally or otherwise, a US Air Force plane 84-0085 also arrived at Shannon on Tuesday at 12:03 from Ramstein Air Base in Germany. It had previously flown from Incirlik Air Base in southern Turkey via Sovia to Ramstein.
The Learjet took off again at 13.33, going back to Ramstein.
This is quite unusual - a US Air Force trip from an air base in Germany to Shannon, and back again to the air base a couple of hours later.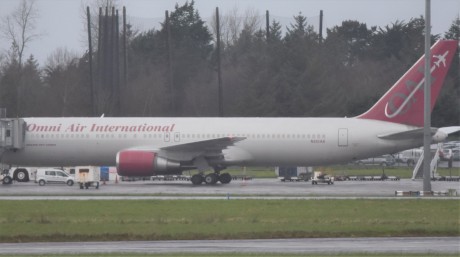 Photo from previous landing 
There are lots of questions about this, which we will try to get our government and Department of Foreign Affairs to answer. 
1. Was the Omni Air 767 carrying troops, and if so did they stay in a hotel in Limerick or Clare, again breaching Covid-19 regulations?
2. Were troops, weapons or other military equipment transferred from the US Air Force Learjet to the Omni Air plane at Shannon?
3. And most crucially of all, is Shannon and Ireland complicit in the movement of NATO troops, weapons or military equipment to Ukraine?
This last question is particularly critical. There is tension in Ukraine at the moment in the Donbas region in the eastern part of the country between Ukrainian troops and Russian-backed separatists. There has also been a build-up of Russian troops on the Ukranian border, and US forces in Europe are reported as being on"higher alert". NATO also says it is "concerned" about Russian military build-up near Ukraine. However Russia has warned the West against sending troops to back Ukraine.
Let's hope we get some answers to these questions.