US Air Force C-32B at Shannon
Posted on:

9 August 2020

By:

shannonwatch
Body:
Today, as Shannonwatch and its supporters gathered for the regular monthly demonstration against the US military use of Shannon Airport, a suspicious looking US Air Force Boeing C-32B (757-23A) sat on the tarmac at the airport. The plane, with registration 02-4452 is operated by the US Air Force Special Operations Command (AFSOC), and appears to be used to support US special forces and CIA operations.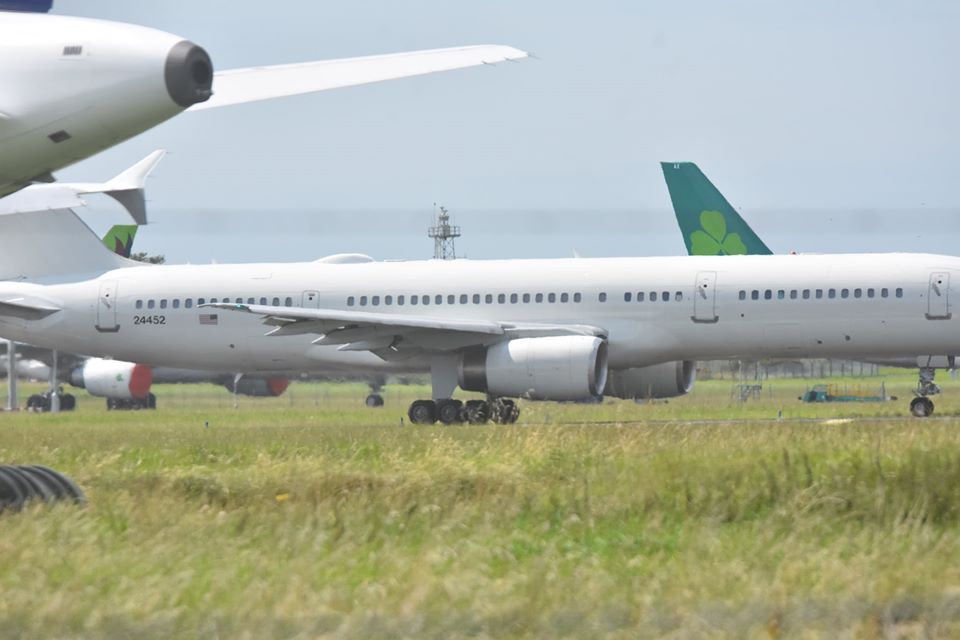 Here's what the American Special Ops website says about AFSOC:
United States Air Force Special Operations Command (AFSOC) operates a small number of Boeing C-32B passenger jet aircraft, providing global airlift for U.S. government crisis response activities. These may include U.S. State Department Foreign Emergency Support Teams (FEST), which deploy in response to terrorism incidents around the world. They may also fly in support of CIA Special Activities.
So we know that the plane at Shannon is used to respond to "terrorist incidents" and to support "CIA Special Activities". And we know that Shannon has had a recent history of supporting other CIA "special activities", in particular the kidnapping and torture (rendition) of prisoners. 
The American Special Ops website goes on to say that C-32B aircraft have been associated with the 150th Special Operations Squadron out of Joint Base McGuire, NJ and the 486th Flight Test Squadron out of Elgin AFB, FL. And it says
These are highly secretive units, with little information publicly available about their activities. The aircraft have been spotted in a plain white paint scheme, with minimal markings. They appear to change serial numbers many times - no doubt an attempt to keep a low profile.
In other words they don't want anyone to know what they are up to. And that probably includes the GArdai at Shannon.
However a plane like this almost certainly has weapons on board, if only to enable the crew protect the sophisticated satellite communications packages on the plane. And that is against the law, and against the government's stated policy.
This isn't 02-4452's first time at Shannon. It was also there on 25 May 2016 when peace activists Colm Roddy and Dave Donnellan went into the airport and requested that US military aircraft be searched and investigated.
Today peace activists went up the Garda checkpoint and asked if the aircraft had been be inspected. The sergeant in charge confirmed that it has not. And in response to Shannonwatch's request to search it, he said we should make a formal written request at Shannon Garda Station. It was pointed out to him that the plane could be gone before we had a chance to do that - which in fact turned out to be the case.
Nonetheless, one Shannonwatch member went to Shannon Garda station at 3pm and submitted the following written request:
I [name provided] ... request that Gardai at Shannon carry out a detailed investigation into USAF special operations aircraft number 02-4452 which was at Shannon airport on Sunday 9th August 2020. This aircraft is specially equipped for intelligence gathering and is known to have been used by US special forces and CIA type operations. This aircraft was also at Shannon airport on 25th May 2016 when peace activists Colm Roddy and Dave Donnellan entered Shannon airport and requested that US military aircraft at the airport be searched and investigated. I am requesting that a thorough investigation be carried out into the aircraft and its crews and passengers. Its presence at Shannon airport is in breach of Irish Government regulations concerning use of Shannon airport by US military aircraft and may be in breach of international laws also due to its involvement in US wars of aggression. A verbal request was made to the Sergeant in charge at the security checkpoint at Shannon at about 14.45 pm on 9th August 2020.
We asked the sergeant in charge to whom the verbal request was made to ensure we got a written reply to our request/complaint. However he would not give an assurance that we would get one.
The attitude of the Gardai today demonstrates the ongoning policy of allowing US military planes to land at Shannonwithout any oversight, leaving them free to flaunt the laws and regulations as they choose. SAdly we seem to have yet another government in office that is prepared to tolerate this.