US Military Breach Covid-19 Regulations at Shannon on at least Three Occasions
Posted on:

15 February 2021

By:

shannonwatch
Body: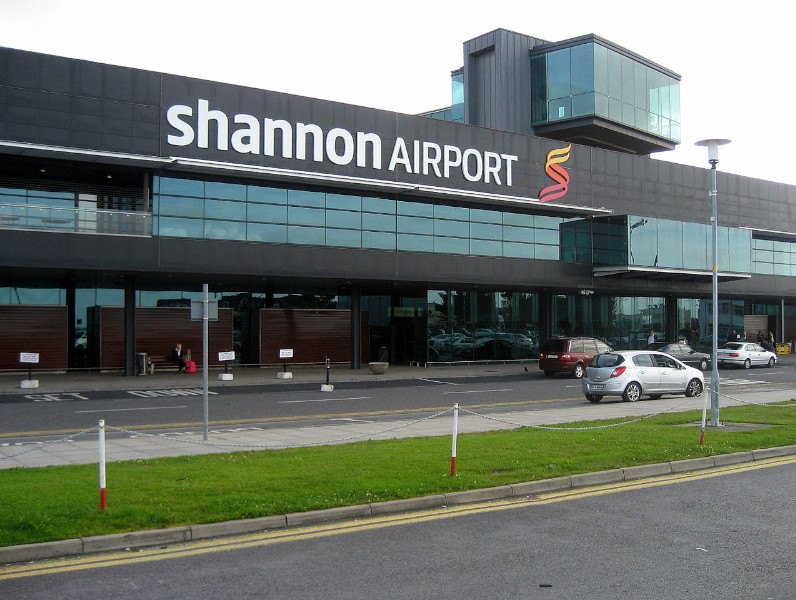 Between Jan 25th and Feb 8th the US military breached Covid-19 regulations at Shannon Airport on at least three occasions. This was compounded by crew members and troops being allowed to go to local hotels where they stayed overnight without isolating. There have been claims of errors on the part of the US authorities; our Minister for Foreign Affairs Simon Coveney has said the issue of non-compliance with public health guidelines was a serious one; the US embassy said it takes it very seriously, and has apologised. But its hard to take any of their words seriously since they repeated the breaches of the regulations.
This is part of an ongoing pattern of disregard for regulations and the law by the US military at Shannon. 
Its even harder to believe US assurances when one looks at the disregard they have shown for the people in Afghanistan, Iraq, Libya, Syria, Yemen and the many other countries that have been devastated by their wars and weapons supplies.
Here's what we know about the three breaches of Covid-19 regulations.
Occasion 1: Jan 25th - US Navy C40A, with a total of 53 people on board
On 25th January a US Navy C40A aircraft registration 16-5829 arrived at Shannon at 19.06pm coming from Bahrain in the Persian Gulf. It stayed overnight and took off for the USA at 11.35am on 26th January. Its crew of five US Navy personnel and 48 US military passengers were allowed enter through the airport and travel to be accommodated in a hotel in Limerick City. This was in breach of Irish Government Covid-19 public health regulations.
In a reply to parliamentary questions by Cian O'Callaghan TD (Social Democrats), the Minister for Foreign Affairs Simon Coveney stated that:
 "… As regards public health measures, Statutory Instrument 11/2021 was the applicable regulation on that date, which stipulated that all passengers should present negative PCR tests on arrival and complete a passenger location form. Due to an error on the US side, the passengers on the flight did not present evidence of negative PCR tests nor complete passenger location forms."
The Minister went on to say that once he was informed of this breach of regulations by An Garda Siochána, the issue was raised with the US authorities, both through the US Embassy in Dublin and through the Irish Embassy in Washington.
The US authorities undertook a review of the circumstances which led to the breach according to the Minister. They also confirmed that the passengers concerned were operating in a "clean bubble", were tested repeatedly during the period they were deployed in the location where the flight originated and, "following instructions by An Garda Síochána, self isolated in a hotel in Limerick overnight, only leaving once to purchase food, while masked, before returning to Shannon airport the following day to travel onward to their destination."
It's not at all clear what the timeline on this was. We do not know when the Gardai undertook their review, or even when they decided that there was a breach of regulations.
If they decided that the regulations had been breached immediately after the plane landed, which appears to be what the Minister's answer is saying, then it's difficult to understand why they allowed the passengers to travel to a hotel in Limerick city, presumably driven by someone who was not on the plane. It is also difficult to understand why they did not explain to them that they could not leave the hotel. 
In his answer to the parliamentary question the Minister said that non-compliance is "a serious matter" and that he made this clear in a discussion with the Chargé d'Affaires of the US Embassy in Dublin on 4 February.
That was 10 days after the incident that he considers to be a serious matter.
The Minister's answer concludes
"Our Ambassador in Washington has also made this clear in his contacts with senior officials in Washington. We have emphasised to the US authorities that all landings must fully abide by the conditions put in place by the Irish authorities, including public health conditions. The US authorities have assured me that this is understood and will not happen again."
Occasion 2: Jan 28th -  Omni Air International troop carrier with 226 passengers
On the morning of 28th January an Omni Air International aircraft registration N828AX, on contract to the US military, landed at Shannon. After refuelling it flew on towards Rota Air Base in southern Spain, but due to fog at that air base it was unable to land and returned to Shannon. It landed back at Shannonat 11.27am on Thursday 28th January. This was not an emergency landing as there were no problems with the aircraft and it could have landed at any airport in Western Europe.
The aircraft remained at Shannon overnight and took off again at 09.28am on Friday 29th January. A total of 226 US soldiers were travelling on this aircraft in addition to the aircraft crew members. The crew and the 226 US soldiers on board this aircraft were allowed to enter the airport at Shannon and travel to stay overnight in a number of local hotels.
Once again this was in breach of Irish Government Covid-19 public health regulations.
In response to a parliamentary question by Catherine Connolly TD, the Minister for Transport Eamon Ryan TD sent the question to Shannon Airport authorities and their reply contained this information:
"On 28th January at 0334hrs, Omni Air International aircraft number N828AX call sign CMB549 arrived at Shannon Airport from Gulfport–Biloxi International Airport U.S.A with the passengers remaining on board pending departure at 0630hrs to Rota in Spain. The aircraft returned at 1120hrs due to severe weather (dense fog) at its destination and remained at the airport. A decision was made to cancel the flight and accommodate the passengers overnight pending a resumption the following day. The passengers departed to local hotels at 1630hrs following receipt of diplomatic clearance and were accommodated in emergency hotel accommodation. Airline Crews are exempt from current Covid testing requirements and the passengers concerned were never destined to disembark in Shannon, therefore no Covid 19 test was required. Due to the emergency/humanitarian situation, the passengers were escorted to/from the hotel accommodation under an agreed local protocol for such rare occurrences and a passenger locator form signed by the Commander. On the 29th January the aircraft departed Shannon at 0928hrs for its original destination."
No testing of the passengers on the plane. No instruction to isolate. 
Furthermore the basis for decicing that airline crew members are exempt from current Covid testing requirements is baffling.
Occasion 3: Feb 8th - US Air Force Special Ops C-146A Wolfhound
Four days after the Minister for Foreign Affairs Simon Coveney claims that he made it clear to the Chargé d'Affaires of the US Embassy in Dublin that non-compliance with our Covid-19 regulations,, it happened again.
A US Air Force, Special Operations Command Dornier C-146A aircraft registration 97-3093 arrived at Shannon at about 13.42pm on 8th February coming from the USA. It spent over 17 hours at Shannon before taking off at 07.29am on 9th February 2021 and made further stops in both Cairo, Egypt and Khartoum, Sudan. The crew members and passengers on this aircraft were also allowed enter through Shannon Airport and were accommodated overnight in a local hotel.
Its worth noting that following the incident involving the US Navy aircraft on 25 January 2021, the Minister for Foreign Affairs Simon Coveney stated that: "The US authorities have assured me that this ... will not happen again."
Since it did happen again it seems clear that assurances given by the US Government to the Irish Government are worthless. Therefore the Irish Government should immediately withdraw its permission for US military aircraft to land and refuel at Shannon Airport. Such permission should never have been given in the first instance by any Irish Government given our policy of neutrality. But now that the US military is presenting a clear risk to public health in Ireland, their use of Shannon must be ended.