US Troops Continue to Pass Through Shannon Despite Covid-19
Posted on:

29 November 2020

By:

shannonwatch
Body:
Despite Covid-19 restrictions, US troops have continued to pass through Shannon since March. Up to the end of October a total of 65.965 troops passed through the airport; that's an average of 200 foreign soldiers a day using a civilian airport in "neutral" Ireland.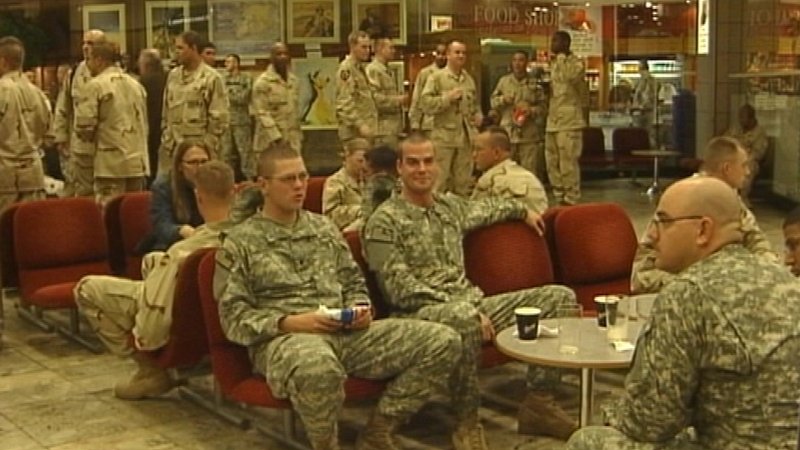 The monthly breakdown below shows that while the numbers were down in April, August and September in particular, there was no let-up in the Omni Air troop carrier landings. In fact the numbers are on track to be higher that any year between 2013 and 2017.
The question of how the troop numbers are collated is an important one, as the Omni Air troop carriers are not the only aircraft on which military personnel pass through Shannon. US Air Force and Navy planes also have soldiers on board.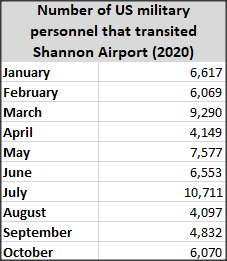 In reply to a Parliamentary Question from Catherine Connolly TD on the matter, Shannon Group PLC which runs Shannon Airport said on Nov 12th that the approval of US military flights (handled by the Department of Foreign Affairs) and commercial military movements (handled by the Department of Transport) are notified to the airport "as required".
Here's what the airport authority said:
"... aircraft schedules are principally notified to the airport via their designed ground handling service provider. Occasionally this information may come directly to the airport. The schedule e.g. ETA, ETD, origin, destinations etc. are manually inputted into the Airports Operations Management System (AMOS) for recording purposes prior to arrival. The actual times of arrival and departure are recorded automatically from an airfield interface.
Where applicable the number of passengers on each flight are notified by way of a movement sheet to the airport by the respective handling agent and manually inputted into AMOS. As in the case with scheduled services no record is maintained of the flight crews on board these flights.
So, the question is, does Shannon Airport receive "movement sheets" for the US Air Force/NAvy planes as well as the Omni Air flights? And if so, what other information is on those sheets that we are not being given? 
We don't want names of soldiers, we want details of the extent to which we are complicit in war in the Middle East. That should not be too much to ask for.