Posted on:

20 June 2021

By:

shannonwatch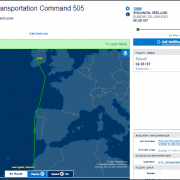 You may have seen that on June 7th the U.S. Africa Command began a huge military exercise with NATO which it calls "African Lion 21" . It is described as a multi-domain, multi-component, and multi-national exercise which employ "a full array of mission capabilities with the goal to strengthen interoperability among partner nations and enhance the ability to operate in the African theater of operations". Most of the activities are spread across Morocco, but some are also occurring in Senegal and Tunisia.
African Lion concluded on June 18th. Over 7,000 troops are reported to have taken part.
It looks like Ireland was also taking part. We tracked an Omni Air troop carrier N819AX that made two trips from army bases in the U.S. to Morocco and back, all through Shannon, in the last 2 days, presumably bringing participating troops back from these military exercises.